The Adventures of Nick & Willikins!
To answer that, you first have to know that Nick & Willikins are characters featured as part of the popular Sarcastic Voyage podcast. Sarcastic Voyage was created and is hosted by my good friend, Ron AAlgar Watt. Long time fans of Pinhead Games may recognize the name from our previous hit "Brain Hotel", which he wrote and designed. After posting a fake screenshot of his vision of a Nick & Willikins adventure game (Below), I realized that this was a project that could actually be made.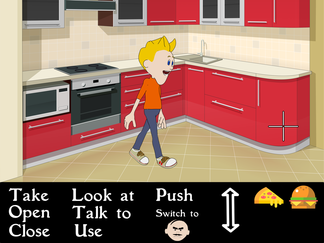 I quickly contacted him and set the wheels in motion to resurrect Pinhead Games and create a very SIMPLE, very EASY new game... but then things quickly went sideways and I realized we were in the process of making a full fledged adventure. One of the first things we realized, was that Flash was not going to be sufficient for this game. That meant I had to learn an entire new engine. We started building the game in an older Adventure Game engine, but quickly ran up against limitations, mostly regarding multi platform support. We switched to Unity using the wonderful Adventure Creator plug in and have not looked back since!

But you don't care about that... you just want to know when you can play the game!
It'll be a while still, but we are aiming to have it out this year! Keep watching this space for production updates, screenshots and other goodies. In the meantime, if you aren't already familiar with the hilarious antics of these characters, now is a good time to catch up on the Podcast!
The Adventures of Nick & Willikins (Audio Podcast)
Get The Adventures of Nick & Willikins!